Hopefully this is an acceptable topic for the relaxation forum.
Anyways, I am possibly getting a vintage Biancihi road bike frame and I plan on building a new bike from basically scratch. I've been wanting to build a custom fixie for awhile but I never had any real inspiration until I started thinking a bit outside the box... 'what if the bike was themed after a historic/famous Formula 1 car.' The car I have in mind is the Tyrell P34. Pictured below.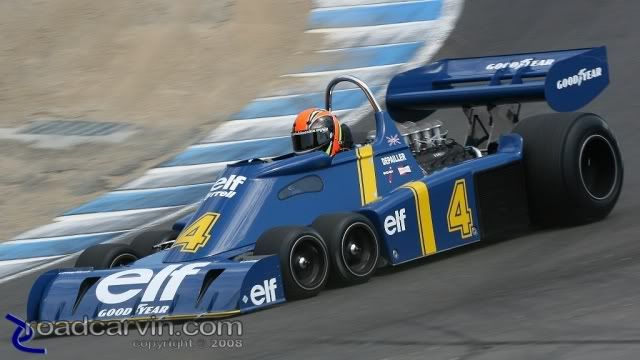 Obviously the bike won't have 6 wheels (duh) but I want to capture as much of the look of this wonderful historic racer as possible. For paint I plan to match the blue as close as possible however I want to use a pearl version of the same color because pearl paint looks amazing in sun light.
Here are the specs that I'm thinking of:
Frame: Bianchi road bike frame circa late 70's early 80's, pearl navy blue with yellow racing stripe on the bottom tube, and yellow number 4 graphic on the down tube.
Rear Wheel - 51mm, deep v, 32 spoke, non machined, flat black in color, black spokes, black hub and polished steel 16 tooth rear cog.
Front Wheel - tri spoke carbon fiber rim, natural carbon finish / or flat black not decided yet (important detail because the actual car had tri spoke front rims.)
Saddle - Okami model, black w/copper rivits
Seat Post - carbon wrapped
Crank : 46 tooth, matte black in color.
Paddles / Cages - polished steel track paddles, black cages
Bars - Bullhorn 'pursuit style' handlebars, matte black in color.
Bar Wraps - top layer will be black cork, with a yellow under layer. I may have to increase the size of the holes in the top cork layer to allow the under layer to be better seen, it will be a bitch of a task but it will be worth it in my opinion.
Front Brake - flat black brake assembly w/yellow brake cable.
Rear Brake - none, who needs it!
Tires - Soma Everwears front and rear, black.
Chain - flat black in color.
Top Tube Protector - Soma, white in color.
I can picture everything in my mind but I'm still really thinking things through because this is going to be a long project and I'll have to buy parts as I can, because money is tight. I want to make sure everything is just right, so any feed back is welcome. I haven't decided on most of the brands of parts I'll be using but I plan on getting as many Soma parts as possible because I love Soma, most of the after market parts I have on my current fixie are Soma and I have no complaints what so ever.
So what are your thoughts? Yay? Na?
Also, if you have a fixie please share your ride!