Listen Up, Pukes Pay Your Respects To Dime...
This is the thread where everyone posts all of Dimebag Daryl's accomplishments. Dimebag was the best guitarist of the 90's and into the millenium until his tragic death in 2004. Post pics, guitars, him playing, his writings, his friends and family. Anything to do with Dimebag goes here. Don't spam my thread or I will cut off your balls and make you wear them as earings. Enjoy!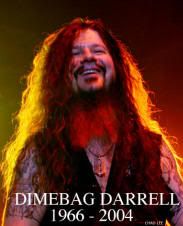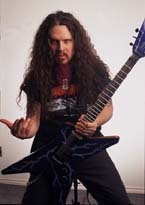 "My favorite Dimebag Darrell memory of all was when he was staying at my house for the "Rock Buds" gig. It was late morning in my house & I was awoken by the delicious smell of bacon being cooked downstairs. I got out of bed to go find Dimebag & wake him up. I went downstairs, & then to his guest room, but I could not find Dimebag. On my way back downstairs to the kitchen, I peeked my head into my son Paris' room, who was about 7 at the time. There was Dimebag Darrell, sitting in a little kids toy chair, playing my son's miniature Gibson guitar, which was plugged into his mini Marshall Stack! "Hey Dime" I said, "Dude c'mon downstairs, breakfast is ready bro!! Maria made french toast & bacon let's get it on !!!!!!!" Dimebag said to me "Hold up, bro!! I am doing something here, hold it up! Hang on one second I am teaching your boy somethin'!!" He had been in my sons room showing him guitar riffs all morning. He thought this was an important thing to do, & the memory of Dimebag sitting in my kids room showing him guitar chords is etched in my mind forever.
We all went downstairs, me, Dime, & Paris, & along with Maria, we enjoyed a home cooked breakfast of french toast, maple syrup, bacon & coffee. He loved the meal & let us all know how much he appreciated our hospitality. I remember it like yesterday. Because even though he was the greatest metal guitar player ever, he was also something even more important & impressive than that. A great human being. Someone you would be proud to have at your dinner table. Someone you could trust with your own children. That was Dimebag Darrell. A classy, talented, one-of-a-kind guy with "Hulk Blood" & the Ace Frehley solo album cover tattooed on his flesh."

--Sebastian Bach



Dimebag is one of the best musicians i have ever known. Other than his remarkable style on playing with tremolo, its like when it comes to music, he never gets old . he always comes up with new ideas that could catch up with the new generation of music. In my opinion his last band,Damage Plan, could have kicked so much ass if only he wasnt killed by that bastard.